Choosing the right dining room rug
The reason you choose a dining room rug goes beyond protecting a floor or even creating a soft texture underfoot. It is often for the aesthetics, or you are looking for a rug to complement the furniture and add more visual appeal to the area. In our opinion, dining room rugs are a classic décor item that will never go out of style.
But a rug also helps muffle sounds and add warmth, both literally and figuratively. It protects your feet from cold, bare floors while also helping hide less-than-attractive floors.
But how do you go about selecting the right floor covering? Colors and patterns primarily drive choices. In a dining room, you have to take into account several factors like size, shape, color, and material.
Rug Size
While size is an important consideration when choosing any rug, size is even more important to consider when buying a dining room rug.
Match to dining set: Ideally, a dining room rug should be large enough to let you place your dining table and chairs on it. There should be enough room so that when chairs are pulled away from the table, they still have their back legs on it.
Do not forget the table leaves: When measuring your rug, do not forget to take into account the length of your table fully extended. Measure to account for any leaves that you use.
Measure the room: Check to see how your rug fits in the room. It is best to leave equal amounts of space on the sides for a balanced effect.
Do not cover too much of the floor: Choose a size that lets the rug end before it reaches the front legs of a sideboard, china cabinet, freestanding bar, or any other furniture other than the table and chairs that you have in the room. Never rest just the front legs of a piece of furniture on the rug because it affects the balance. If there is no way to avoid this, prop up the rear legs on rubber or wood shims.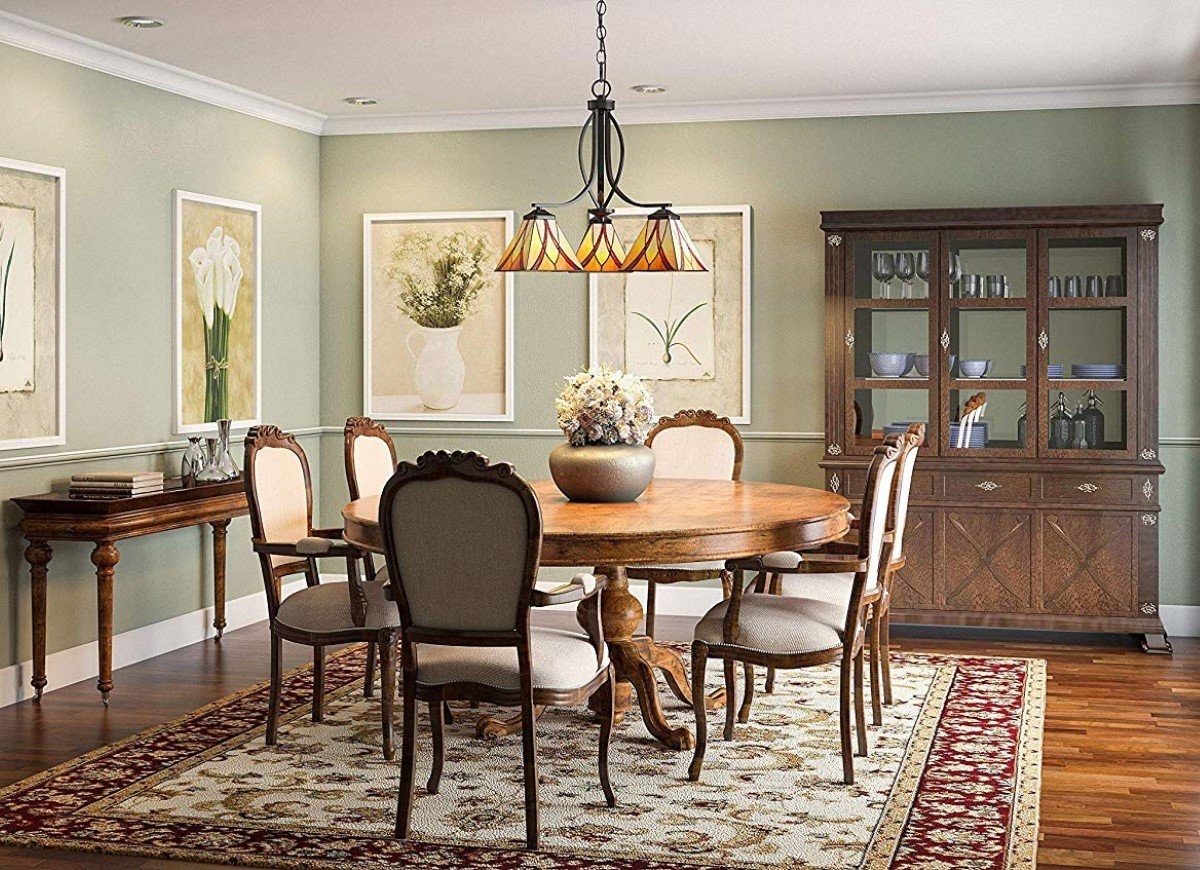 Table and Rug Shapes
Traditionally, the shape of your rug will complement the shape of your table. That means your best bet will be to place a round rug under a round table, or a long, rectangular rug under a long, rectangular table. By matching the shape of your table, your rug will form a pleasant frame around the furniture and create a sense of visual cohesion in the room.
Some people will choose to contrast the shape of the rug with the table. For example, placing a square rug under a round table or vice-versa. This technique works best with smaller tables like you'd see in a kitchen or breakfast nook, and in more eclectic styles.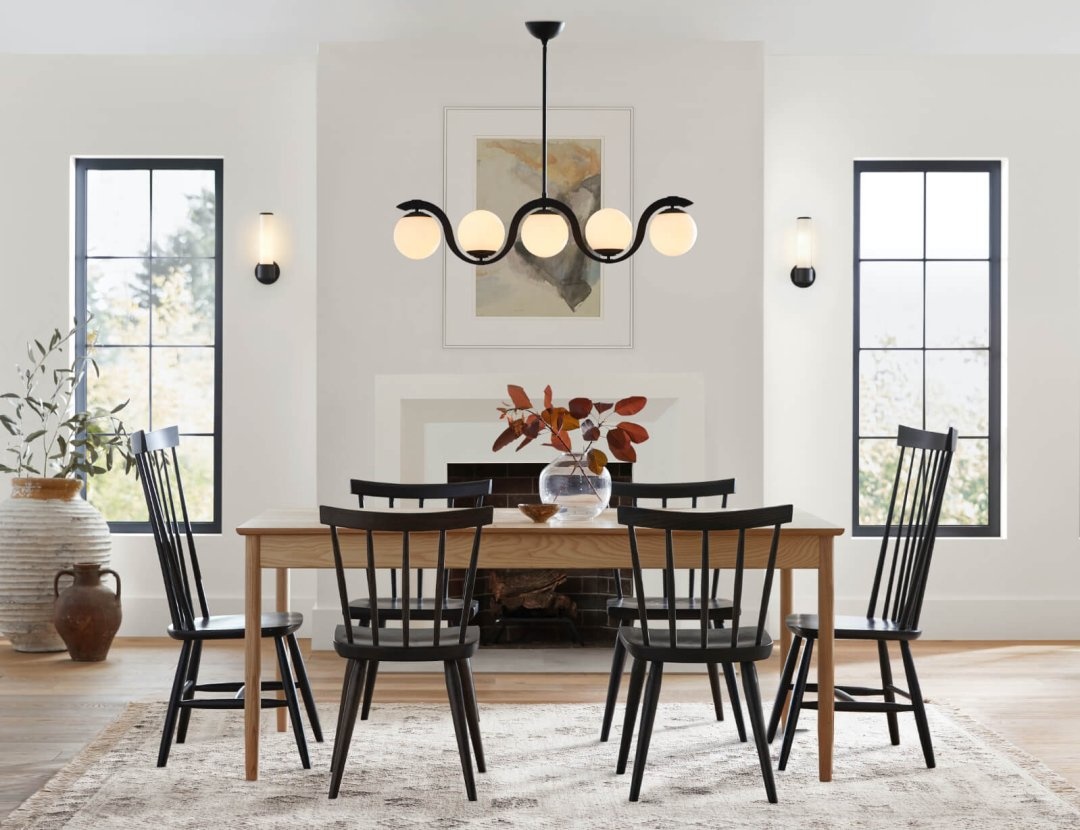 Rug Material
Consider that your dining room rug will have heavy pieces of furniture sitting on it. Chairs are pulled out and pushed in. Accidents with food may happen, and there will be crumbs even if there are never any major spills. The material you choose is important for the longevity of your rug. Understandably, your budget might also play a part in choosing a material. 
Think about wear and tear: A dining rug is likely to get a lot of foot traffic, so a rug material that cleans up easily and can stand up to heavy use gets points on the plus side of the balance sheet. If you prefer natural material, be aware that silk or cotton rugs are not likely to stand up to this kind of use. Wool is a good choice, but it is also an expensive material.
Easy upkeep: Human-made fibers are easy to clean and maintain.
Indoor-outdoor rugs: They have come a long way and have considerably improved in look and feel.
Pattern and color
Choosing a color or pattern is an important consideration. Those two elements provide eye appeal and interest in your dining room.
Decide on the rug's intent: The color of your rug can provide a starting point for your room's color scheme or a way to tie together colors. Decide on how the color of your dining room rug will be used: as an accent, create drama, bring warmth, or tone down the mood.
Multicolor and patterned rugs: These rugs have the advantage of disguising spills.
Medallion prints: While medallion prints are often chosen for dining rooms, an all-over pattern can be more visually appropriate. The medallions often get hidden under the table.
Stripes: This popular design element can make the room look wider or longer.
Match the theme or period: Choose a pattern that harmonizes with the furniture period. A Persian or Oriental rug sets the right mood with traditional furniture, while a plain-colored rug with interesting texture or a striped or geometric pattern works better with midcentury modern pieces.
Do Not Forget the Rug Pad
While you will never see the rug pad once it is installed, you will feel it every time you step onto the rug or clean it. The rug pad helps anchor the rug to the floor and keeps it from wrinkling or slipping. That makes a rug safer as well as more aesthetically pleasing to look at. A dense rug pad makes the rug feel more plush and luxurious. It also makes it easier to clean.