Persian Carpet
Persian Rug or Iranian Carpet (Farsh or Ghali) is a thick textile mostly use in decoration and floor coverage in Persian culture. This precious symbol of Persian culture is in various types, sizes, shapes, and colors. Beautiful ancient stories of Persian heroes and legends, pleasing patterns of natural elements of Iran are the basis of all the Persian carpets. What makes Persian carpets distinctive is both its quality of materials and exquisitely detailed design. The name of Iran (Persia) is deeply tied with its carpet and all around the world, eastern carpets equals Persian carpets. Knut Larson, the Swedish writer, in a book about eastern carpets says: "The Persians preserve their carpet culture carefully. Their art of weaving carpets is something superior, it is the best in the world"
The oldest carpet in the world

The Pazyryk carpet is the oldest Persian pile carpet that was found in the Pazyryk Valley in Siberia in 1949 by Russian scholars. The carpet is almost 2500 years and is currently exhibited at the hermitage museum in St. Petersburg, Russia.

The most precious Persian carpet
Spring of Khosrow Carpet, also called Winter of Khosrow Carpet, ancient Persian carpet, possibly the most costly and magnificent of all time, made for the Ctesiphon palace of the Sāsānian king Khosrow I (reigned AD 531–579). Described in the historical annals of the Muslim scholar al-Ṭabari, it became the model for subsequent garden carpets. The carpet was called the Spring of Khosrow because it represented, in silk, gold, silver, and jewels, the splendor of flowering spring. It was also called the Winter carpet because it was used in bad weather when real gardens were unavailable. As such, it symbolized the king's power to command the return of the seasons.
Its design was a formalized paradise with streams, paths, rectangular plots of flowers, and flowering trees. Water was represented by crystals, soil by gold, and fruits and flowers by precious stones. When the Arabs captured Ctesiphon (AD 637), the carpet, which measured about 84 square feet (7.8 square meters), was cut into fragments and distributed to the troops as booty.
History of Persian Carpets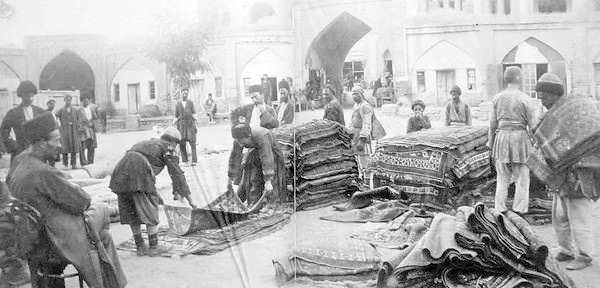 There are different views about the history of carpet in Persia (Iran). Some believe that the art of carpet-weaving in Iran goes back to the Bronze Age, by nomad tribes around 5000 BC. Other historians consider the time of Cyrus the Great as the initial establishment of Persian Carpets. What is obvious is that carpet in Persia(Iran) has a deep history but today, only some pieces of those carpets are available in the museum or private collections. Persian carpet throughout its history took influenced by other cultures and nations. In the 11th Century after the invasion of Turkish Seljuk tribes, Turkish carpet knots. It was different from traditional hand-knotted Persian carpets. We can still see these methods in the Turkish area Iranian carpet weaving like in Tabriz. The greatest progress in carpet history was during the Safavid dynasty in the 16th century. In this century many Persian carpets had been exported to Europe and led to its worldwide fame. Also, Shah Abbas, Safavid King, in Isfahan opened a huge number of workshops and factories to promote the skills of Persian carpet weavers.
Persian carpets and rugs of various types were woven in parallel by nomadic tribes, in village and town workshops, and by royal court manufactories alike. As such, they represent different, simultaneous lines of tradition, and reflect the history of Iran and its various peoples. The carpets woven in the Safavid court manufactories of Isfahan during the sixteenth century are famous for their elaborate colors and artistic design and are treasured in museums and private collections all over the world today. Their patterns and designs have set an artistic tradition for court manufactories which was kept alive during the entire duration of the Persian Empire up to the last royal dynasty of Iran.
Carpets woven in towns and regional centers like Tabriz, Kerman, Mashhad, Kashan, Isfahan, Nain and Qom are characterized by their specific weaving techniques and use of high-quality materials, colors and patterns. Town manufactories like those of Tabriz have played an important historical role in reviving the tradition of carpet weaving after periods of decline. Rugs woven by the villages and various tribes of Iran are distinguished by their fine wool, bright and elaborate colors, and specific, traditional patterns. Nomadic and small village weavers often produce rugs with bolder and sometimes more coarse designs, which are considered as the most authentic and traditional rugs of Persia, as opposed to the artistic, pre-planned designs of the larger workplaces. Gabbeh rugs are the best-known type of carpet from this line of tradition.
. Carpet weaving still plays a major part in the economy of modern Iran. Modern production is characterized by the revival of traditional dyeing with natural dyes, the reintroduction of traditional tribal patterns, but also by the invention of modern and innovative designs, woven in the centuries-old technique. Hand-woven Persian carpets and rugs have been regarded as objects of high artistic and utilitarian value and prestige since the first time they were mentioned by ancient Greek writers.
Although the term "Persian carpet" most often refers to pile-woven textiles, flat-woven carpets and rugs like Kilim, Soumak, and embroidered tissues like Suzani are part of the rich and manifold tradition of Persian carpet weaving.
In 2010, the "traditional skills of carpet weaving" in Fars Province and Kashan were inscribed to the UNESCO Intangible Cultural Heritage Lists.
Wool, cotton, silk are the basic materials of Persian carpet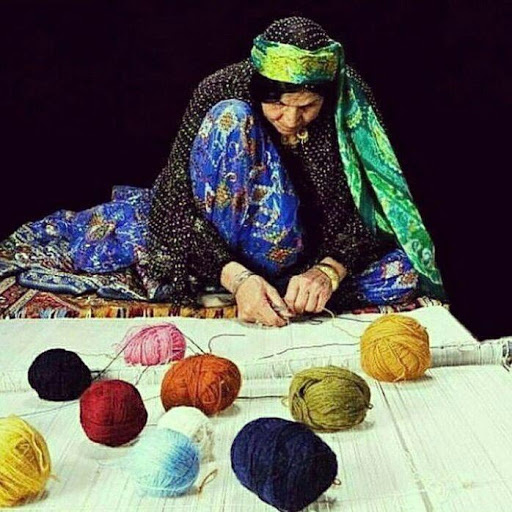 Wool
In most Persian rugs, the pile is of sheep's wool. Its characteristics and quality vary from each area to the next, depending on the breed of sheep, climatic conditions, pasturage, and the particular customs relating to when and how the wool is shorn and processed. Usually, sheep are shorn in spring and fall. The spring shear produces wool of finer quality. The lowest grade of wool used in carpet weaving is "skin" wool, which is removed chemically from dead animal skin. Higher grades of Persian wool are often referred to as kurk, or kork wool, which is gained from the wool growing on the sheep's neck. Also, fibers from camel and goat which are used in Baluch rugs are other forms of wool. Modern production also makes use of imported wool, e.g. Merino wool from New Zealand, because the high demand for carpet wool cannot be entirely met by the local production.
COTTON
Cotton forms the foundation of warps and wefts of the majority of modern rugs. Nomads who cannot afford to buy cotton on the market use wool for warps and wefts, which are also traditionally made of wool in areas where cotton was not a local product. Cotton can be spun more tightly than wool, and tolerates more tension, which makes cotton a superior material for the foundation of a rug. Especially larger carpets are more likely to lie flat on the floor, whereas wool tends to shrink unevenly, and carpets with a woolen foundation may buckle when wet. Chemically treated cotton has been used in rugs as a silk substitute since the late nineteenth century.
Silk
Silk is a natural protein fiber, some forms of which can be woven into textiles. The protein fiber of silk is composed mainly of fibroin and is produced by certain insect larvae to form cocoons. Silk is an expensive material, and has been used for representative carpets. Its tensile strength has been used in silk warps, but silk also appears in the carpet pile. Silk pile can be used to highlight special elements of the design. High-quality carpets from Kashan, Qum, Nain, and Isfahan have all-silk piles. Silk pile carpets are often exceptionally fine, with a short pile and an elaborate design. Silk pile is less resistant to mechanical stress, thus, all-silk piles are often used as wall hangings, or pillows.