Does my Bathroom Need a Rug?
Bathroom rugs provide a clean, warm spot to stand on. Your feet love the softness and warmth that a tiled floor can't give you. Since you'll most likely have bare feet as you get ready for your day in the morning, or ready for bed at night, a rug in front of the vanity will be the last safe and comfortable spot for your feet. A hardwood floor in the bathroom can show wear near the sink and shower areas quickly. A rug will protect the floor so it will last longer.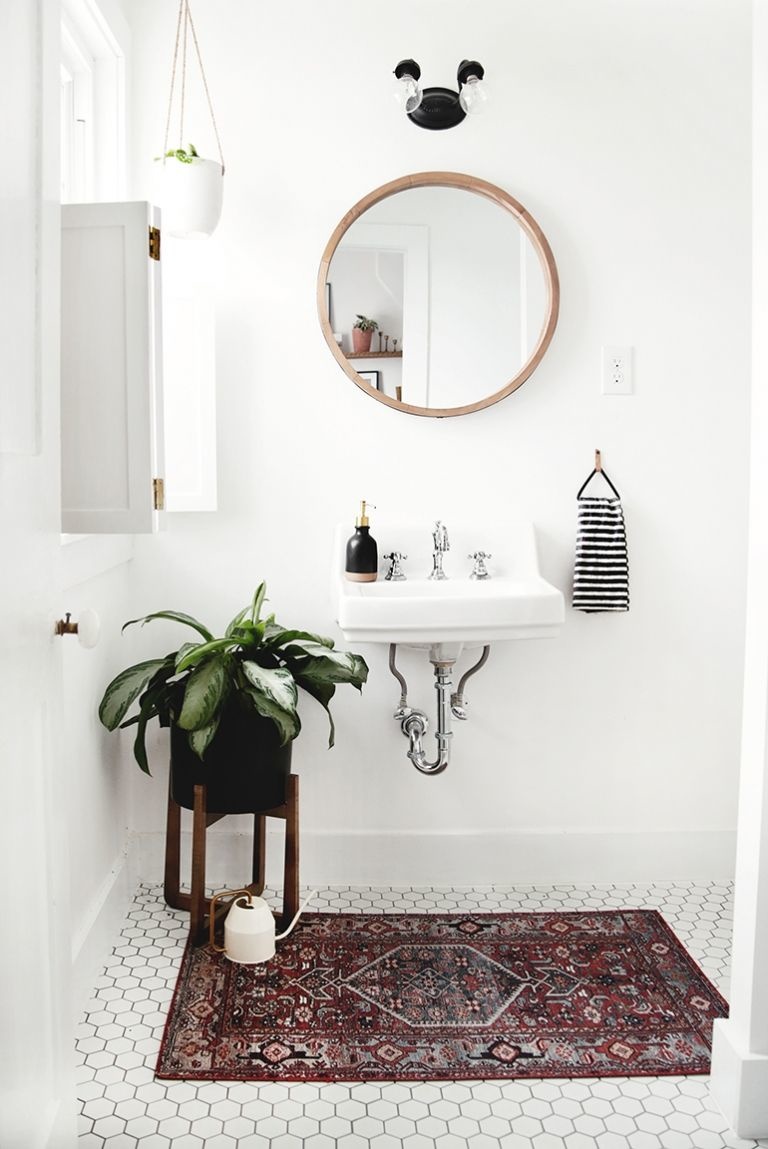 Bathroom rugs also provide a slip-free zone near water features like the tub and the shower.
Having a rug in your bathroom is strongly advised. Bathroom rugs can serve multiple purposes in this room. 
Firstly, they add another layer of decor to the bathroom by matching the shower curtain, towels, or any other piece of soft fabric you might have in the bathroom.
In addition, bathroom rugs provide a soft landing for your feet in front of the sink and mirror, as well as right next to the shower or bath. 
Lastly, they absorb water and prevent your feet from slipping if the floor is wet.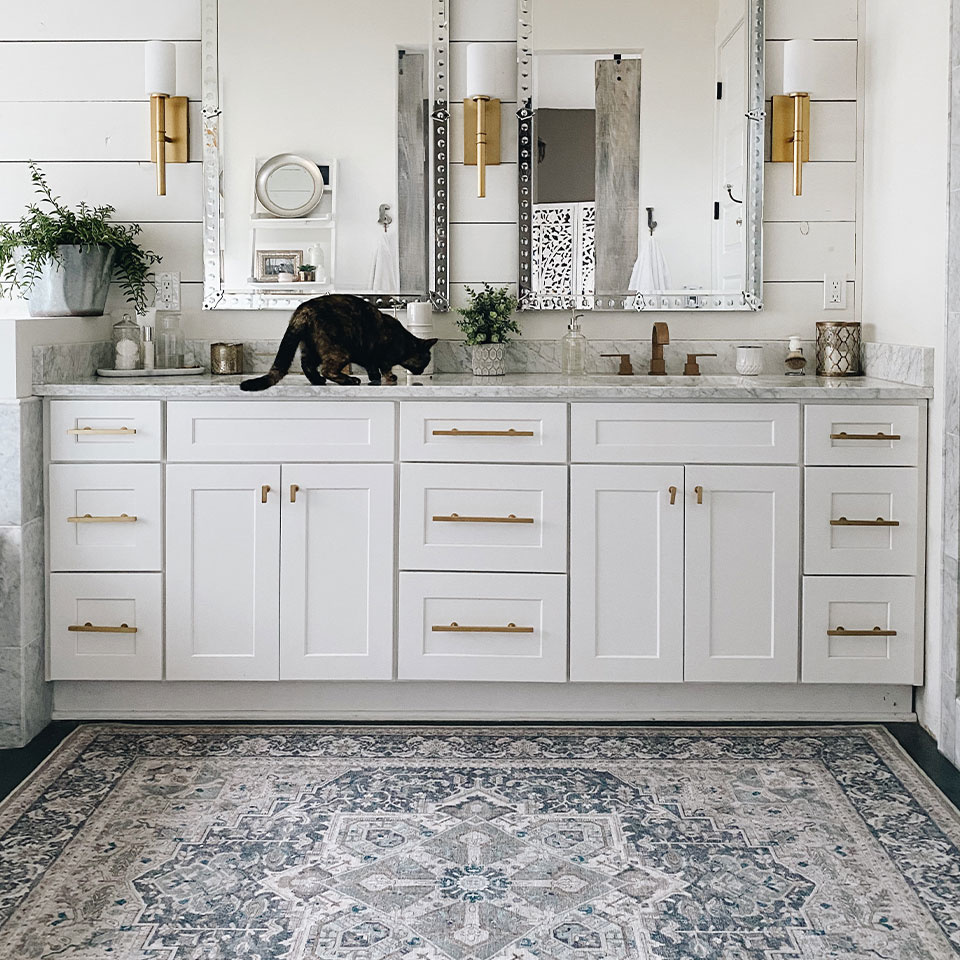 Best Material For Bathroom Rugs
The best material for bathroom rugs is one that is soft and quick drying.  It should also be easy to keep clean with a vacuum cleaner to remove hair, dust, and dirt. Cotton and Egyptian cotton make fantastic bathroom rugs. Cotton is durable and washable. It feels soft underfoot and dries quickly to avoid mildew.
What is the Purpose of a Bathroom Rug?
When choosing a bathroom rug keep in mind why you want to add this item to your bathroom.
If you want something to absorb water in front of a shower or bath, make sure to choose a non-slippery rug or use a non-slip underlay underneath it, in a cotton material that resembles a towel. 
If you want something purely decorative, pick a rug that matches the color of your bathroom and place it in the middle of the room.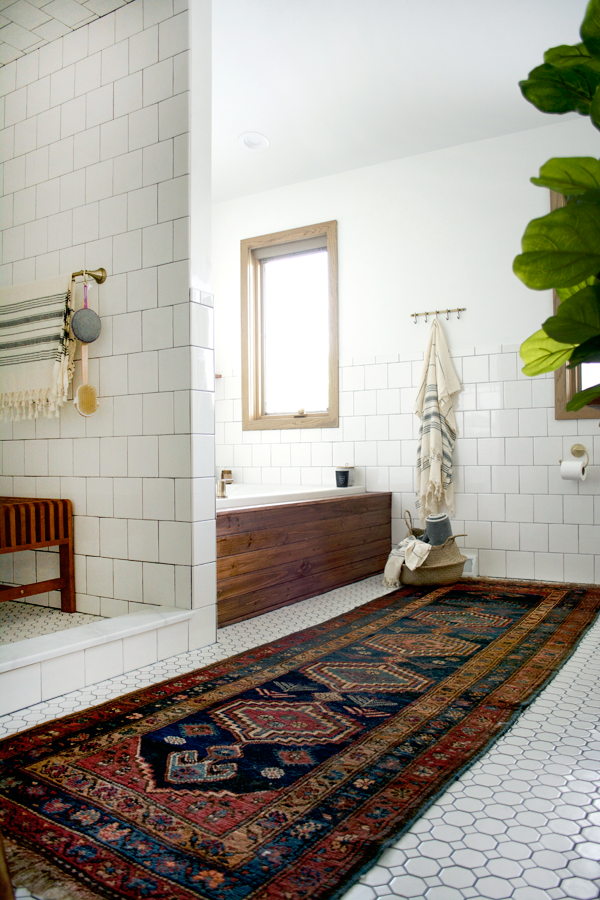 What Is the Difference Between a Bath Rug and a Bath Mat?
A bath mat is an absorbent, non-slippery pad used in front of the toilet or shower. Bath mats are also known as pedestal mats and are more affordable than bath rugs. 
Bath rugs on the other hand are plushier and more luxurious items used both for their absorbent character as well as to make the bathroom fancier. 
In most cases, however, the two terms are used interchangeably and refer to the same thing, as their primary function is one and the same!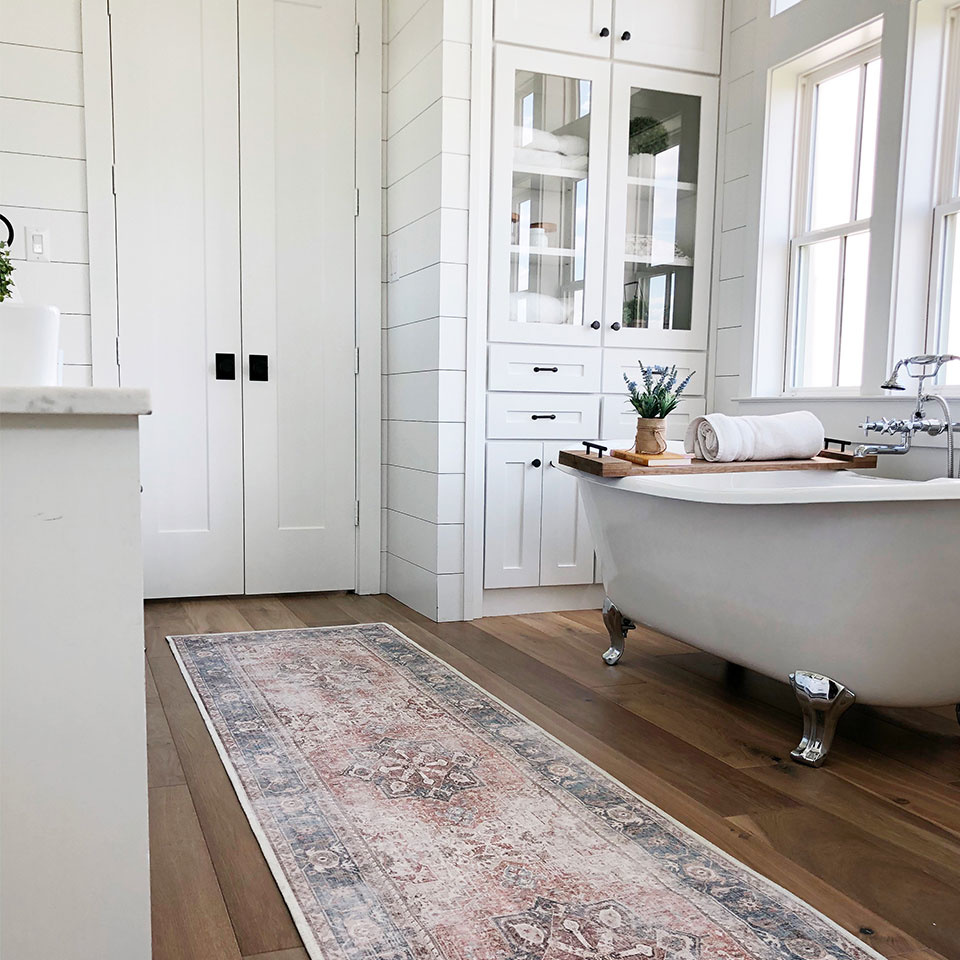 How do you make a bathroom rug non-slip?
There are different ways to make your bathroom rug non-slip.
The most common practice is to add an anti-slip rug underlay, usually made of rubber. These rubber layers can vary from affordable padding to more expensive and higher quality rug pads that also make the rug softer. 
The second way to make bathroom rugs non-slippery is to use velcro strips underneath your rugs.
Rug tape is another suitable solution to keep bathroom rugs in place. This type of tape sticks to the floor through rubber backing instead of adhesive. 
How often should you wash your bathroom rug?
Wash your bathroom rug weekly to keep it germs-free if you are using the bathroom very often and your rug is made of a soft material like cotton. 
If your rug has a rubber backing, however, you only need to wash it once a month as the rubber prevents extensive mold from growing, unlike cotton rugs.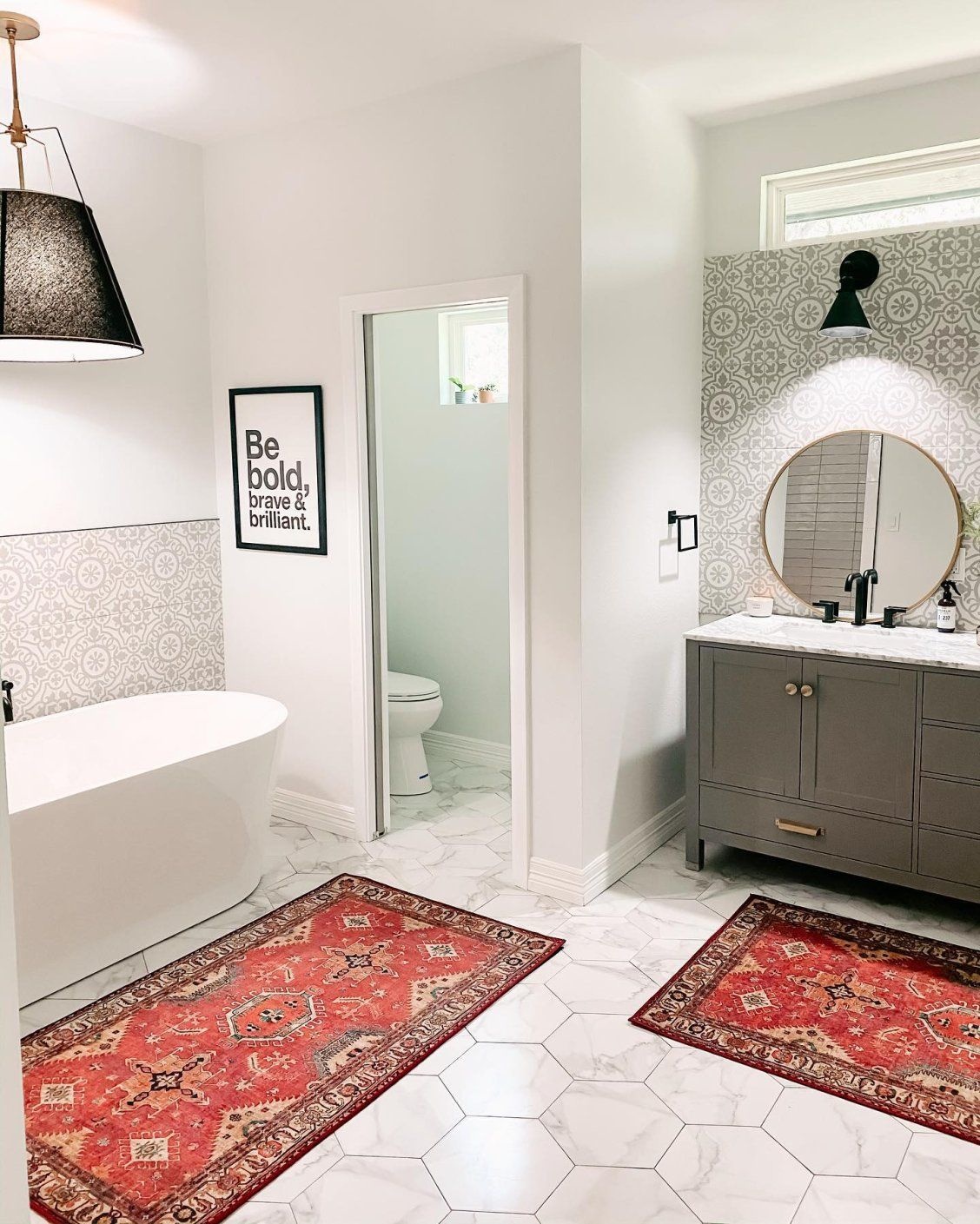 How Many Rugs Do You Need In Your Bathroom?
A small bathroom shouldn't be consumed with rugs if you have a pretty floor to show off.  Rather the rugs should accent and be placed where necessary. A rug can define the areas of your bathroom.  A large bathroom may command a large rug, perhaps central to the room. Take measurements of your bathroom. Determine how much of the floor you want covering the rug and pick an area rug made of a durable material that can stand to get damp.
The number of bathroom rugs you need is determined by the size of the room and the placement of the fixtures.  Commonly rugs are placed in front of the sinks.  A dual-sink vanity may look best with a runner in front of the vanity rather than two small rugs, side-by-side.
The tub and shower stall will need a rug for the bather to step on.  If slipping and falling from an unsecured rug is a concern, look for rugs that have slip-resistant backing. Bathroom rugs will become wet and should be of quick-drying material to avoid mildew or floor damage for non-tiled floors.
If you are not a fan of a rug in front of the toilet, check it off your list but, if you want one, be sure to wash it often.  This part of the bathroom can harbor more dirt and germs than other areas and will need extra care.