Rug Size
There's nothing sadder than a rug that's too small—it just makes you look like you cheaped out. But in general, size is definitely dictated by room shape and the furniture placement. A large rug is always the best choice for anchoring room decor within an open-concept space.
Smaller rugs placed in large spaces certainly can be used as accents, but don't go too little. You can always break out the measuring tape and then use painter's tape to block off outlines of common rug sizes on your floor to get a sense of their footprints. Another good rule of thumb is that your rug, in a living room, for example, should be large enough to fit under at least the front two feet of your furniture, with the long side of the rug parallel to your sofa.
Consider Care in Your Decision
flatweaverugs in either wool yarns or acrylic yarns suitable for indoor/outdoor use are both cleanable and durable. The pattern is another sneaky source of durability. "If the rug is both colorful and/or has a busy design throughout, this will contribute to the durable aspect, as eventual stains would be less noticeable,". This might be particularly helpful in a household with kids and/or furry friends or in a setting like a kitchen, where you'll be cooking and eating.
While all rugs could benefit from a professional cleaning every now and then, it might be best to skip true antique if you aren't down for the added expense of gentle professionalhand-washing and restoration when needed.
Weigh the Pros and Cons of Vintage Versus New
From an eco perspective, vintage is usually the smarter choice. It's also probably the better route for you if you want a unique, one-of-a-kind item that tells a story. "The rugs that we sell on our site are truly works of art,". "20 to 80 years ago, people (often women's collectives) thought carefully through the design elements of each rug—motifs and color have cultural significance. The wool was sourced and dyed locally, the knotting and construction were extremely durable." Unfortunately, the same can't always be said for the machine-made and hand-tuftedrugs that larger retailers sell. "That same attention to detail doesn't exist, and the materials are less durable and often synthetic,". "They lack the same beauty, durability, and uniqueness." So true. Many older rugs are often crafted better and may hold up to wear-and-tear better than their newer counterparts. But they're also pricier than a lot of newer rugs, so you have to take that into consideration as well.
Make Sure the Pile Fits Your Lifestyle
Select the content and texture of your rug based on how it will be used. For a high traffic area, we recommend a low-pile wool rug, which is easier to clean than something super plush of fluffy. "Flatweaves fall in the low-maintenance category as well because they let most spills fall through without puddling on their surface,", so these tend to be more kid- and pet-friendly. For a bedroom or low traffic area, consider a soft mohair shag or a silk rug. "They both look amazing and feel great under bare feet,". Jutes and other natural-fiber options are fairly easy to keep up as well, but they're not the best if you have cats that claw and can be scratchy on crawling babies' skin, for example.
CHOOSING A RUG MATERIAL
We prefer to purchase 100% natural material rugs – like thick 100% wool rugs (so plush!) or 100% cotton flatweaves (plus rug pad!). We also like natural fiber rugs, like the sisal runner in our kitchen (which is backed with rubber to keep it from slipping around). Basically, we try to avoid rugs that are a mix of multiple materials – like 90% one fiber, and 10% another. Why? We've had them and they just haven't held up as well (we've had various issues with fading, staining, and sometimes even unraveling). We read a few articles about rug materials and a mixture of fibers is usually a sign they're made from lower-quality materials (like olefin, acrylic, polypropylene, etc) which may not feel as nice underfoot and may not wear as well over time. Those options can be good budget-saving choices, but unless we need an indoor/outdoor rug, we try to stick to natural materials these days.
Our preference for natural materials is two-fold. The first reason is the overall feel of the rug: wool is so plush, cotton is soft (and can even be machine washable in some cases) and even the right jute can feel nice underfoot (our kitchen runner isn't scratchy at all).
The second is durability and longevity. These materials are made for the long haul (in fact our three woolPersian and Turkishrugs are antiques, so they have been around for decades and are still going strong!) and their fibers are also great for keeping clean. I'm probably jinxing myself for saying this, but we haven't had a single stain that we couldn't remove from a wool, cotton, or jute rug in our house. It's why we don't sweat having our most expensive wool rug in a food-heavy room like the dining room, where wayward meatballs abound. You can visit our store in Milwaukee Waukesha for great hand-knotted rugs or buy online. 
Don't Forget Rug Pads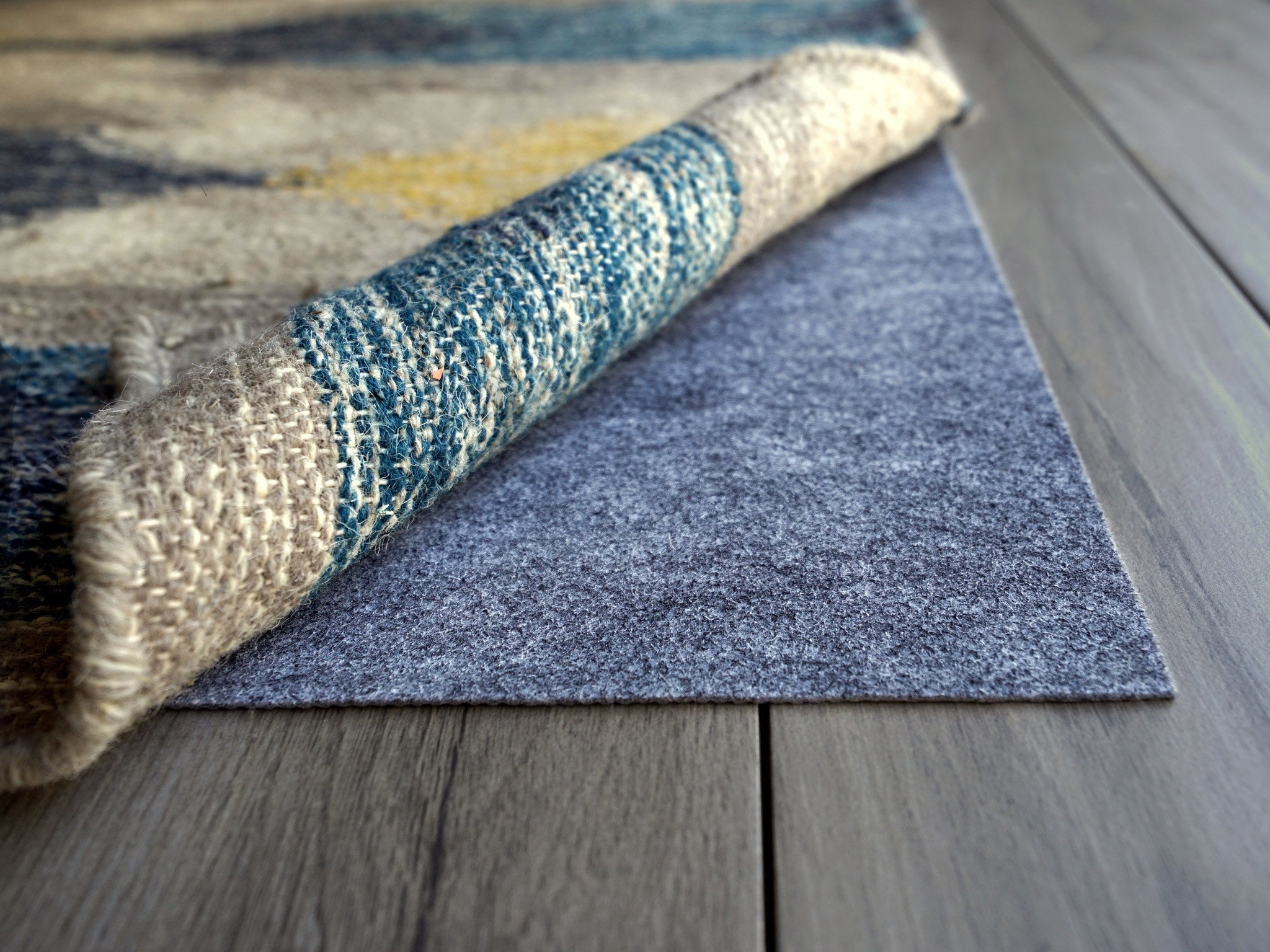 They're not just an add-on driving up the cost of your set-up. "A good pad is a must, as it protects a rug from shifting when it's walked on and provides extra cushioning,". More importantly, a pad actually increases the life of the rug by reducing the friction that exists between the rug and ground. "It lets the rug breathe and lets the dust fall to the floor,". We recommend eco pads made out of recycled felt.
Bottom Line
The most important consideration in buying a rug is finding something that "has a beating heart and is going to please you every time you look at it". A great rug, a place to sit, a can of paint and you're done."